Location
Swanson Auditorium, Nebraska Union, University of Nebraska-Lincoln Campus or on Zoom
Event: Thomas C. Sorensen Policy Seminar Series
While not everyone is inherently prone to violence, we all remain susceptible to its far-reaching consequences. Recognizing this, our focus shifts to exploring how individuals, professionals, and communities can collaboratively enhance the safety of our surroundings. This enlightening panel event is dedicated to the discussion of how adept practitioners are actively employing a public health perspective to prevent violence on community premises and educational campuses, spanning across local, state, and national tiers. Dr. Mario Scalora will lead a panel of distinguished practitioners in threat assessment and violence prevention to discuss challenges and practical strategies.
Panelists:
Bruno Dias is the Associate Director for Field Operations for the Central and Midwest Regions. He works with federal, tribal, state, local, and territorial governments and community stakeholders to build local prevention networks using a public health-informed approach to prevent targeted violence and terrorism. Before joining D.H.S., Bruno worked for public school districts in Texas. He implemented violence prevention initiatives that leveraged behavioral threat assessment functions and promoted partnerships with social workers, mental health professionals, parents, and communities to support students. Before directing K-12 safety programs, Bruno managed corporate security and workplace violence prevention for a Fortune 10 company. He also worked in public safety, where he retired as a commander and was instrumental in solving homicides and reducing gang violence.
Bruno is a Certified Threat Manager (CTM), a graduate of the F.B.I. National Academy, is a Board-Certified Investigator, and he holds multiple certifications in Behavioral Threat Assessment and Management. Bruno earned an M.S. in Criminal Justice and an M.A. from the Naval Postgraduate School (Homeland Defense and Security Studies). He is pursuing his doctorate in Psychology, Public Policy, and Law.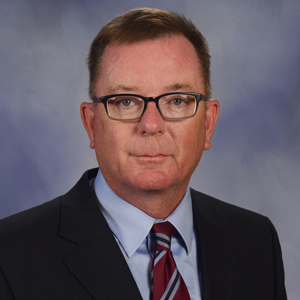 Joe Wright is the Director of Security for Lincoln Public Schools (LPS). He is responsible for leading the district's safety and security to create safe environments in all district buildings. In 2013, he created a threat assessment program for the district that was aimed specifically at violence prevention. He is an Association of Threat Assessment Professionals (ATAP) CTM. Prior to his work at LPS, Joe served the City of Lincoln as a police officer and retired at the rank of captain. At the request of the University of Nebraska's Public Policy Center, he created a training session, "Behavioral Threat Assessment (BETA)," for Nebraska law enforcement that is still in use today.